PRESS RELEASE
2010 Realtor of the Year in Franklin NC - John Becker "Bald Head"
Congratulations to John Becker "Bald Head",  Broker with EXIT Smokey Mountain Realty in Franklin, NC!  He was voted 2010 Realtor of the Year by the Franklin Board of Realtors at their Holiday Banquet on December 3, 2010. 
Chosen by his fellow realtors, this prestigious award is given to the Realtor who has exemplified service and professionalism in the Market Place.  Not only is John a Real Estate Broker assisting clients and customers obtain their Real Estate Dreams, he also gives back to the community by serving on the County Commission Slope Committee, playing drums at Franklin Covenant Church and he speaks at various prisons and abuse shelters throughout Western NC.
John is a master Internet Marketer and is always willing to help a fellow Realtor with their Internet Marketing challenges.
Visit his website www.baldheadtherealtor.com and check it out. We salute "Bald Head" for this well deserved award.

Eleanor Washburn
EXIT of the Carolinas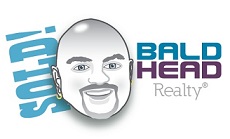 Macon County NC Real Estate with Specialty in Franklin & Otto
"Offering Solutions to My Clients"
Your gateway to Paradise in the Smokey Mountains of Franklin, NC. John Becker / Bald Head, provides a superior level of informed, professional real estate service to Buyers and Sellers. You can obtain any information you require in order to make an informed purchase regarding Franklin NC Homes for Sale and Otto NC Properties for Sale with John Becker at Bald Head Realty. Call 828-506-3719
"My Dream Is To Help You Move Into Yours"